Neringah Hospital: Kiosk for Visitors
In July 2013 we started the Neringah Hospital Project. Neringah is a paliative care hospital in Wahroonga and the project involves the stripout and refurbishment of an old Kiosk which has not been used for more than twenty years. Once complete the kiosk will become a most needed area for family groups to gather with their loved ones when visiting Neringah.
The first day we spent removing copious quantities of solid timber shelving.
Ku-ring-gai Council put a stop to further work until the third week of August and we returned Saturday 24th, to start on the removal of the internal brick walls, the original ice cream freezer and other bits and pieces.
Day 2 Task: demolish two very solid brick walls
The photos tell the story showing the two walls we removed. We had six Rotarians, Steve from Nerinagh, Annie and Ross' son Zach. Zach said to his Dad later in the day " your Rotarians rock" he was most impressed at the way they worked.
A most welcome morning tea and lunch was provided by the kitchen staff at the hospital. During September the plan is to make good the floor and the walls, to paint the kiosk throughout and replace the sink and cupboards above. Once the painting is complete we will replace the light fittings, carpet the floor and add some furnishings. Again a wonderful opportunity to provide this most needed recreation area at Neringah Hospital.
Rotary Club of Ku-ring-gai members volunteered their time and labour and Bunnings generously provided the materials.
End of Day 2:
Finished!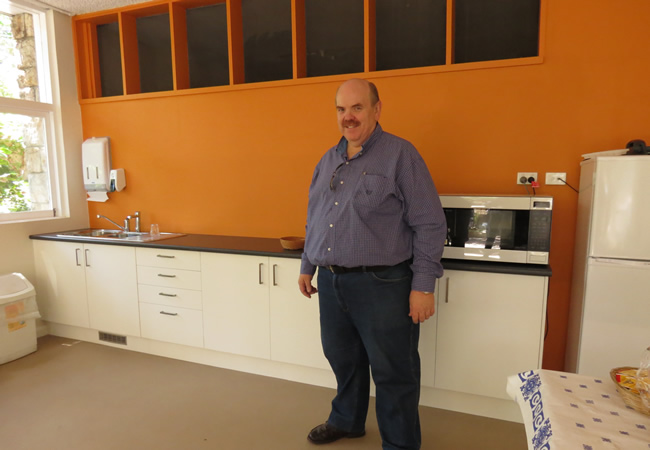 Opening Day
NOTE: The Rotary Club of Ku-ring-gai has been a long time supporter of Neringah Hospital and for example, donated $25,000 on 30 November 1998 for the purchase of new beds.