Clarke Road School Hornsby

Our Club has supported Clarke Road School for over 12 years. The school caters for students from Kindergarten to Year 12 with an intellectual disability. See PHOTO GALLERY of club members at work, link below.
Quoting from a newsletter by the President of the P&C, Kati Herrington:…
"A wonderful part of our school community is the Rotary Club of Ku-ring-gai. On Friday, the 17th a team of 9 people came in for the day and worked and worked and worked. There was so much to do yet no task was too menial or dirty for them. At the beginning of the day the school still looked like a building site and the job seemed impossible, by 3pm it looked like a school. The humble generosity of this team, who even brought in frypans and cooked the lunch we were putting on for them and the staff, was impacting. And the team was a lot of fun too. Thank you to the Rotary Club of Ku-ring-gai, we are very grateful for your support, we are fortunate indeed to have you on our side."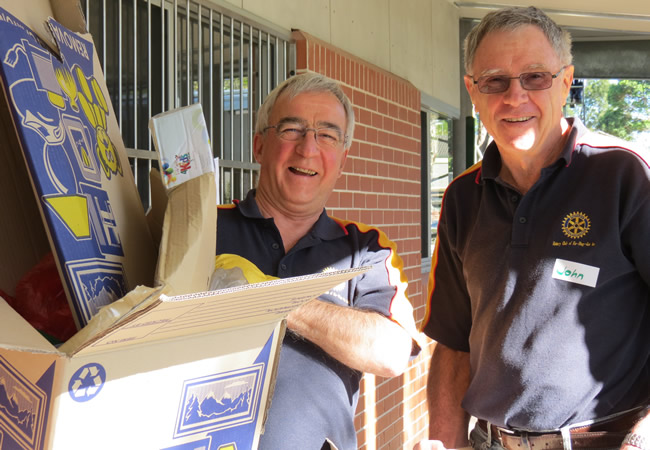 This quote refers to the day before the new school was "open for business" for students. A team of Rotarians and partners worked to help make that possible and ease the load on the staff. We unpacked dozens of boxes, flattened and removed them, removed rubbish, unpacked library books and installed them in the library, helped prepare teaching aids and other useful jobs.
Prior to the new purpose-built school being built in 2013, we renovated an area on the previous site and constructed a covered paved area with outdoor furniture and a brick gas barbeque. It provided a great area used by staff, students and parents. Happily, the original barbeque has been rebuilt at the new school and is being used again for barbeques.
We also ran the BBQ at the Unofficial Opening Party and served more than 260 sausage sandwiches! Nine Rotaractors also assisted with activities to entertain the children. It was a very successful day and it was great to see the children, parents, carers, staff and neighbours enjoying the new outdoor facilities and having fun together.
We contributed to a new lectern for the new school. It proudly displays the Rotary wheel and our Club name, together with the school crest.
A new senior playground was constructed recently and we donated funds towards the cost of fencing this new area which will help the senior students to better engage during break time.
Over several years we have provided volunteers during Education Week and Book Week, and presented a Role Model Award at the end of the year.
After another day of volunteering, we received an email from Kavi Razzaghi-Pour who was Acting Principal at the time:
"THANK YOU" so much for your hard work yesterday. I really believe in the old adage of "It takes a village to raise a child." So thank you for being part of our "village" and happily doing all the jobs for the school, students and staff. It is wonderful to have community members such as yourselves who are so willing to give up their time and energy for our students!"
This involvement strengthens the ties between the Community, Rotary and Clarke Road students, staff and families.
Some humourous weekly reports during construction:
ClarkeRd_BBQ_Jan2005_report.pdf
Our Club is Making A Difference!
We built a Chicken Coop! Photo gallery below
Joomla Gallery makes it better. Balbooa.com